Contact & Hours
Reverend Kathleen Shannon
Contact & Hours
Reverend Kathleen Shannon
Office Hours
Monday 9:00AM – 8:00PM
Tuesday 9:00AM – 8:00PM
Wednesday 9:00AM – 8:00PM
Thursday 9:00AM – 8:00PM
Friday 9:00AM – 8:00PM
Saturday 9:00AM – 8:00PM
Sunday  9:00AM – 8:00PM
These hours are for contact availability only and may not reflect in person session availability. All sessions must be booked in advance. Same day appointments may be available by directly contacting Kathleen.
Contact Kathleen Shannon
By Phone Call: 1-949-422-4092
By Phone Text: 1-949-422-4092
By Email: kathleensministry@gmail.com
By Booking An Appointment Below
Note: Any appointments before or after shown availablity must be scheduled directly with Kathleen by phone, email or text. These special appointments may be held in person or online, depending on The Reverend. 
ADA Compliance
Kathleen's Ministry has help for clients with disabilities. I am able to travel to you for sessions in your home or hospital room, or to conduct sessions over the phone or internet. For the blind (and all others), free consultations are available over the phone. I can read parts of this website for you or explain anything you need to clarify. Sessions are also available for clients with disabilities at Awakenings in Laguna Hills, which is accessible to wheelchairs and has handicapped parking. Awakenings rents out rooms for private sessions. The cost of the room is not included in my normal fee and must be added on. I am the only practitioner of Kathleen's Ministry, and I have no other employees.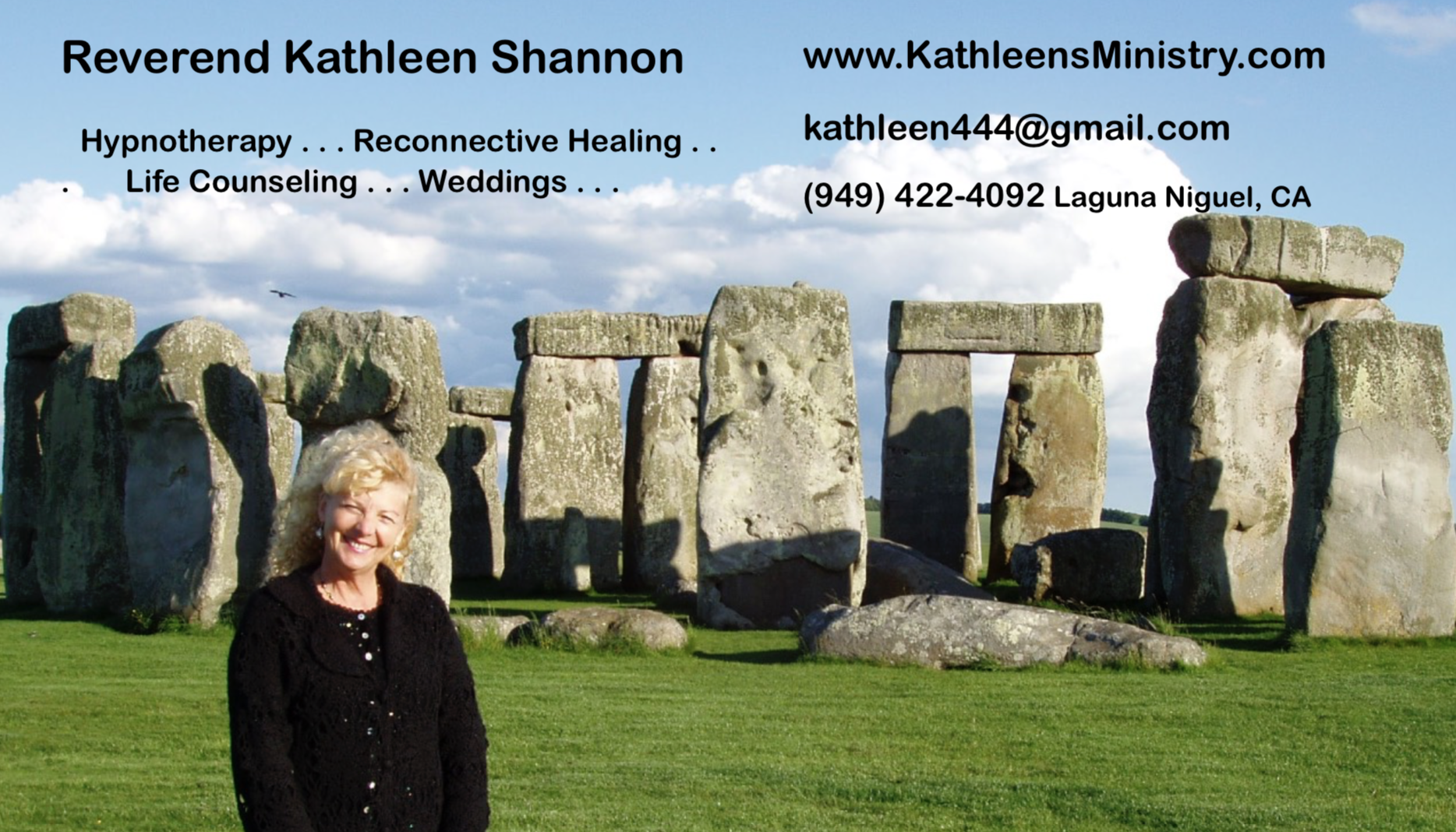 Connect With Kathleen
When you click on the button below you can see all session types, timing and availability before you book. You do not need a password. You do not need to sign up for anything, or pay in advance. It's super quick and easy. You will receive an emailed confirmation with your appointment time. You will be able to reschedule or cancel, if needed, in your emailed confirmation.
Update for the COVID-19 Guidelines
I am sorry for any illness, death and confusion suffered by anyone during the pandemic. Also the fear caused by the necessary isolation, quarantine and lock downs. We will get through this together as we focus on the best case scenario and it will make us stronger. As for my ministry, my office is still open at my regular hours as I do not touch my clients in my work, and I was not asked to close my doors. I can easily maintain a safe distance during my work with you. However if you feel more comfortable, I have always offered remote sessions by phone and video, and still do, from the convenience of your home.
I also offer outdoor weddings. Almost all of the weddings I have ever officiated have been outdoor weddings. Some were very fancy, at a resort or wedding venue; others were on beaches or parks; and some were in beautiful backyards and rose gardens. 
Many heartfelt blessings, Kathleen.