A Healing Journey
I am The Reverend Kathleen Shannon of Kathleen's Ministry. My journey to create a healing ministry has been an unusual one. When I was very young my dream was to become a veterinarian, a healer of animals. I love animals and I am a vegetarian, mostly for moral reasons. I was accepted to UC Davis after early high school graduation to begin my veterinarian studies.
At the beginning of my life I faced tremendous challenges, losing both my parents and living in various households on different sides of the planet for years. I grew up in very unstable circumstances, always having to rely on the force and flexability of my own personality to overcome adversity in a harsh existence.
Most of my early memory was lost due to the trauma of being unable to imprint on anyone stable. My earliest memories were of living with my great grandmother, then my grandparents in Oregon. I adored my grandfather who was an organic farmer and bee keeper. My grandmother was an amazing cook and a gentle lady. Grandpa had me working in the bee fields and home gardens at 4 years old. He read bible scripture to us before we could eat our breakfast. These experiences imprinted my interest in growing and eating organic food as a source of health and that the knowledge of the higher power of God and Faith is even more important than food in sustaining us.
My search for knowledge, identity and meaning continued at the age of 12 when I discovered a book which changed my life. It opened up whole new worlds; unseen worlds of the metaphysical, multi-dimensional realities of the paranormal and supernatural. This book, "The Search for Bridey Murphy" by Morey Bernstein, is still in print today, and it was made into a popular movie by the same name. These new ideas inspired me to know more.
This expansion of inspiration has continued over a lifetime of training, research and self healing. It has culminated in my desire and abilities to help others co-create balance, health, happiness, and abundance in all things simply by aligning ourselves with who we really are. This is through the wellness modalities of hypnotherapy, Reconnective Healing, and metaphysical counseling. I have been active in the new age metaphysical community since 1993, when I earned my first certifications in hypnotherapy at Orange Coast College.
Energy Healing
I never intended on becoming a healer, or a Reverend for that matter. These paths have unfolded for me on my journey. As I studied, traveled with and worked for Dick Sutphen, he gave many healing seminars using hypnosis and he inspired me in that way. I was also inspired by the energy healers I was meeting at the New Age festivals we were working at and attending. I decided a few years later to look into taking training for energy healing.
When I did my research into energy healing training options (there are more than 100 types of energy healing schools around the world) I chose Dr. Eric Pearl's Reconnective Healing. When I discovered that the results of doing this work were so remarkable, I had to admit maybe I could call myself a healer, although I do not in reality say I am the one healing my clients. It is a combination of the client, myself and God Consciousness co-creating the healing, like a triangle. I am simply the observer doing a dance with the healing frequencies.
When I facilitate Reconnective Healing it is not myself who heals but the Intelligence of The Field of Frequencies around us, gifting you the light and information you need the most at the time.
Reconnective Healing also includes distance healing where the patient is helped in non-local reality by myself and The Field, just as effectively as in person, anywhere in the world.
Weddings
I am a wedding officiant, having become an ordained minister in 2007, on the advice of one of my hypnotherapy teachers, Shannon Feather. She advises her students that a hypnotherapist must also be an ordained minister in order to legally counsel our clients. I had always been fascinated by weddings and the unique role that a minister plays in the lives of the wedding participants, and so I decided to study the art of being a wedding officiant. I absolutely love this romantic work and I have officiated many weddings, and am now an experienced wedding officiant in Orange County. I am legally able to officiate your wedding and have it recorded at the county offices, where I hand deliver your completed marriage license in person.

Life Coaching and Holistic Healing
 I have been a life coach and spiritual counselor since 2007, using Hypnotherapy and Past Life Regression as tools for greater clarity and understanding, in order to bring back your personal power, balance, peace, harmony and self love. I am able to coach you through life transitions, help you discover your life purpose, find meaning and fulfillment in life, and support you as you change. I help you tap into your full potential and define/achieve your goals for who you want to be and what you want to do.
I am a Holistic Healer and Life Coach for mind, body and spirit. I believe in Food Hospital and that your health is a result of what you eat and drink and think. I quote Hippocrates: "Let they medicine be thy food and thy food be thy medicine". I can help you construct a healthful diet for living a long vibrant life, beneficial for yourself and the environment around you. I also call on the Angelic Realm and God Source to help you access self healing.
I believe all healing comes from the healed, not the physician or healer. This includes Western or Eastern medicine, drugs, surgery, herbs, prayer, therapy, etc. The best plan is to try everything available to you as a person to come back to balance and health. Each of us is so unique and complex, what works for one person may be very different than what works for another.
I believe in saying YES, surrendering, asking for help and healing from the highest power, known as Source Energy or Divine Spirit. This is the life force energy which gave birth to you into human form and which gives you 24/7 support and well being.
One of my favorite teachers, Barbara O'Neill says: "A body can heal itself, if given the right conditions." Well-being is our natural, God given state. Barbara, a highly trained nutritionalist, is also attuned to the healing power of God Consciousness.
The Personal Reconnection
I am a naturally gifted and certified practitioner of  The Personal Reconnection, as developed and taught by Dr. Eric Pearl, using the new frequencies of light and information recently come to planet Earth. This is a new type of energy transformation and personal evolution, where you relax on a comfortable massage table in a beautiful soul spa created especially for this type of work. The Personal Reconnection, a once in a lifetime event for the client, is only facilitated in person, and is a two day event.

Clinical and Spiritual Hypnotherapy
I am trained in Spirit Contact Therapy and have been facilitating this work for clients since 2008, which I learned from developer Dick Sutphen who was also my mentor for many years. Spirit Contact Therapy is an integral part of my spiritual hypnotherapy healing sessions. I use this work to help you access your higher self, who is your true soul mate, your twin soul, who you communicate with through your emotions. Using this type of therapy, you become a psychic medium, channeling higher self, spirit guides, guardian angels, non-physical friends and relatives from the other side.
Spiritual Hypnotherapy can also be used to channel friends, lovers and relatives still alive in the physical world to find answers to tough questions. It is the perfect environment for answering all of your life's questions from a much broader perspective.
I am also a highly trained clinical hypnotherapist, and am very comfortable working with this mainstream modality for projects such as becoming a non-smoker, enhancing mental ability, sports performance, losing weight, overcoming phobias, allergies, creating physical and mental healing.
I will teach you how to access The Benevolent Life Stream and use it in every area of your life to manifest all that you want to be, have or do. This is a life skill available to all. I am a long time student of Abraham-Hicks, who teaches the Law of Attraction and the Art of Allowing. I use hypnotherapy to embed these concepts as new habits as I teach you to continue this work at home. This is a life skill you will learn from me.
I am adept at Past Life Regression Therapy, which I have been facilitating as a hypnotherapist since 1993. I have given many workshops for group regressions, called Past Life Parties, which are fun and informative. Past life regression and hypnotherapy is the very first skill I learned on my journey in becoming a holistic healer.
Cold Laser Therapy
I am a trained and certified cold laser therapist. I became interested in this healing modality after reading a book called Flood Your Body With Oxygen by Ed McCabe. I became certified in the use of the ML830 Cold Laser healing device in 2010, as an adjunct to my hypnotherapy practice. The most common use of a cold laser in this case is to facilitate someone's desire to quit smoking, or to reduce addiction to any substance. In common practice it is used by doctors and veterinarians as a very effective instrument to reduce pain and speed healing for any soft tissue injuries. In England, it is the primary healing modality for whiplash from car accidents. Most of the major sports teams have one or more to use, allowing their players to resume the game as soon as possible.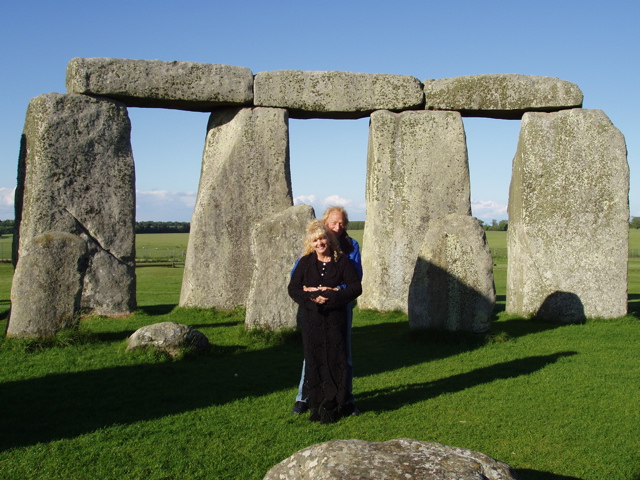 Reverend Kathleen Shannon and her mentor, Master Hypnotherapist Dick Sutphen visiting Stonehenge in England, May 2008.